How To Organize A Kitchen
Kitchens have always been the soul of a family home, how to arrange it?
Firstly, look at the functionality. When decorating the kitchen, the most important is the order of element. It is important to determine where to put a sink, refrigerator and oven (cooker). These elements must be close to each other to facilitate the movement across the kitchen, but not attached (because of different functions they have - cooling / heating). Think of all the other things that you consider necessary, in order not to wish the kitchen appliance in a few months that you have nowhere to put. When you create a schedule that is convenient for you, go to the colours… Colours are crucial because they determine the "temperature" and the style of your kitchen space. As for the colours in modern kitchens, they range from vibrant to neutral. Currently most used are red, orange, turquoise, blue, white, black, green and cream. When combining colours for the kitchen, do not forget the colour of refrigerators, stoves, freezers and other appliances.
As for floor coverings, you can use linoleum, tile, epoxy materials, concrete, cork... The most important thing is that the floor is easy to maintain because of the presence of moisture and dirt, and that is aesthetically well integrated with the rest of the space. Wood as flooring in the kitchen is aesthetically perfect solution, but a small problem occurs in the functionality and durability of the same. Bright, pastel colours with a touch of white increase the space, and vibrant colours liven up the mini kitchen.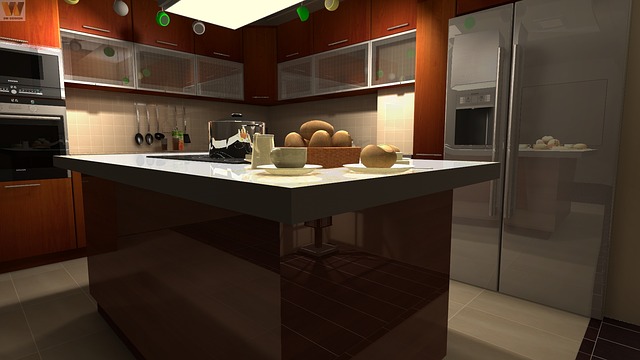 Materials commonly used in the kitchen are lacquer, matt glass, stainless steel, chrome and laminate. Choose materials that endure water and moisture. The materials used for making furniture and table tops can be a combination of plywood, veneered and painted MDF (Medium Density Fibber), wood, stainless steel, glass, granite, etc.
When choosing furniture for the kitchen, we should not think only of aesthetics but rather the organization of the kitchen. Firstly get low cabinets (whose upper surface serves as a worktop) and popular hanging lockers. One of the proposals is to hang the things you use every day when cooking on the inside of the cupboard. If you have a kitchen cupboard, you can put the bar at which you can hang frying pans or smaller pots, and below will remain the space for dishes. Let the hanging or floor shelves and cabinets be easy available. If you have space, extend the hanging cabinets up to the ceiling – more shelves, less cleaning of dust. Instead of deep shelves, use the drawers and pull-out cabinets.
Lighting is also an essential element in the kitchen. Worktop must be well illuminated. Built-in light in the ceiling can be a nice addition to a modern kitchen, and the neon lights under hanging kitchen cabinets will illuminate the work surface and increase the space. Customize your kitchen to yourself, not yourself to the kitchen.